HDD not recognized
Damaged Hard Drive - Case 277510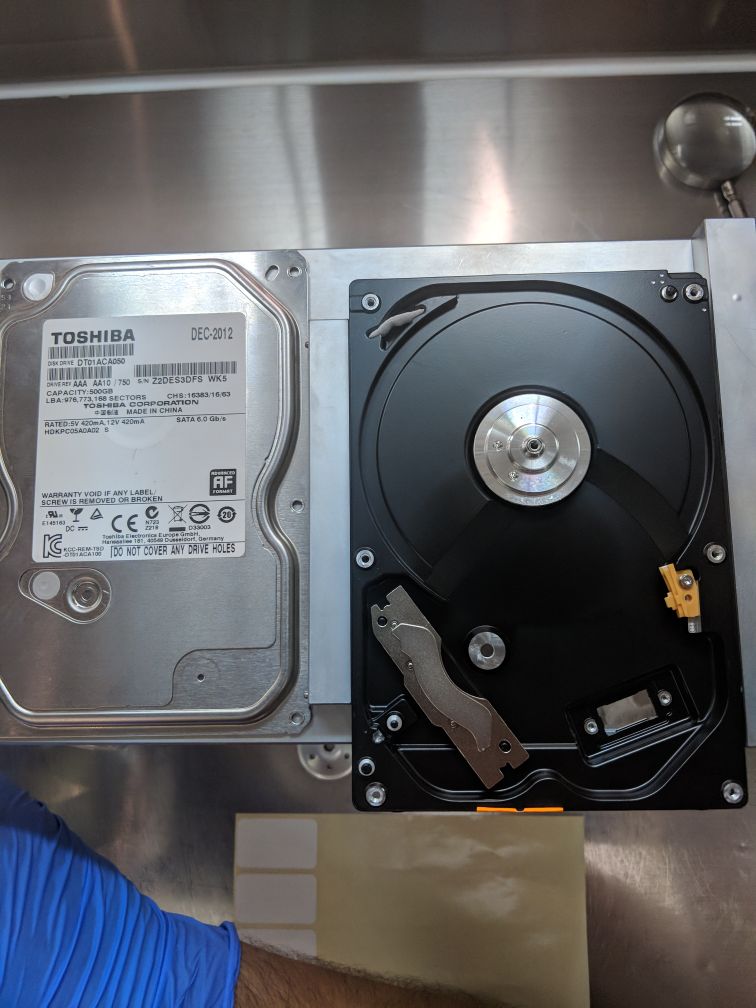 This HDD from Toshiba, model DT01ACA050 came to our labs for data recovery.
The HDD owner reported that this was an external drive, kept inside his laptop case. Unfortunately his case was stolen and found later by the police, in bad condition.
We checked the HDD inside Northwind Data Recovery's Clean Room and found its heads to be smashed and deformed. One of the sliders (it's a part of the hard drive's head assembly) was not where it was supposed to be and after looking around the drive's internals we couldn't find it. This meant that the slider was stuck on the bottom surface and had to be removed and collected.
We removed the platter (!! #dont try this at home!) and indeed,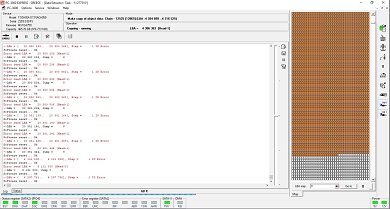 we found the slider to be stuck underneath. We carefully removed it using special equipment and put the platter back in. Now we were ready to proceed with the recovery.
We replaced the heads of the hard drive and then we attempted to clone it. Of course, we had to tweak the firmware so the drive would tolerate the new parts.
Result: 97.8% of our client's data recovered successfully!
Damaged Hard Drive - Case 272407
This drive that came in to Northwind Data Recovery's labs belongs to another era! :)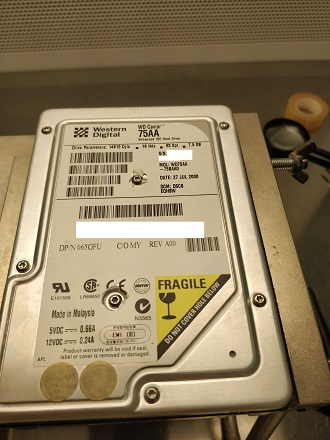 It's a WD model with production date: 27 July 2000. Capacity: 7.5GB.

Unfortunately, we confirmed that the HEADS of the drive were destroyed and there were damages to the platter.
For a modern drive, that would mean that the chances of recovery are slim to none. However, these drives had lower data density, meaning that we could maintain some hope for this drive.
Indeed, we replaced the WD HDD heads and to our surprise, we could clone the drive with high speed (compared to its problems and its age).
We successfully avoided the damaged areas of the platter's surface and we managed to recover a very satisfying 83% of our client's data! :)
Damaged Hard Drive - Flood - Case 124501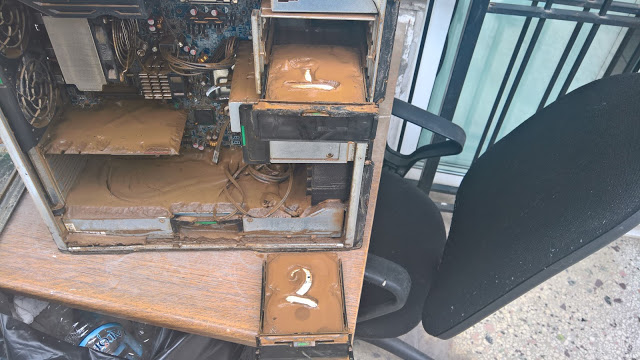 We got a call about a case with flooded drives. They were victims of the devastating floods that took place in Samothraki island during the September of 2017. Large areas of the island were completely destroyed.
The drives were part of two drives RAID array and this picture describes what we had to deal with when we received them..

The PC was drenched in mud, thus the HDDs were drowned in mud too.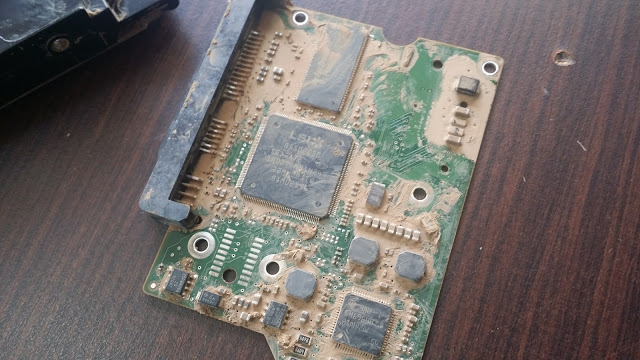 We got to work: We cleaned the drives thoroughly on their outside first, including the electronic parts (PCB). Their PCB were in extremely bad condition due to the flood and the mud.
Afterwards, we opened up the drives to see what we had to deal with on their internals.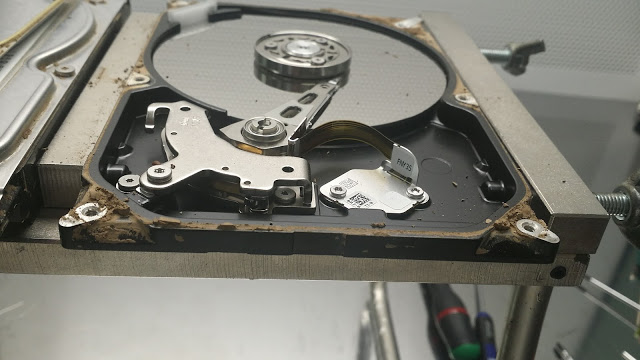 Having good past experience in situations like this, in Northwind Data Recovery in Thessaloniki, we were sure what would have to face with,, and we were right: Mud everywhere and solidified pieces of mud on the platters of the hard drives platters. Water particles all over the drive's surfaces and on their other internal parts. We initiated special cleaning procedure and removal of the foreign objects from the drive's internals, so we could have a chance in recovering data from this damaged hard drive due to flood.
Then, we replaced the heads and the PCB and we put the drive for cloning using our specialized hardware equipment.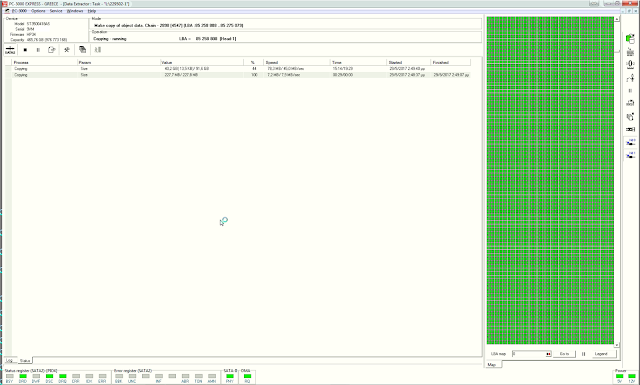 We managed to recover data / files with an incredible success rate of 99.9%. Client very happy :)
---
Damaged Laptop Hard Drive - Case 141304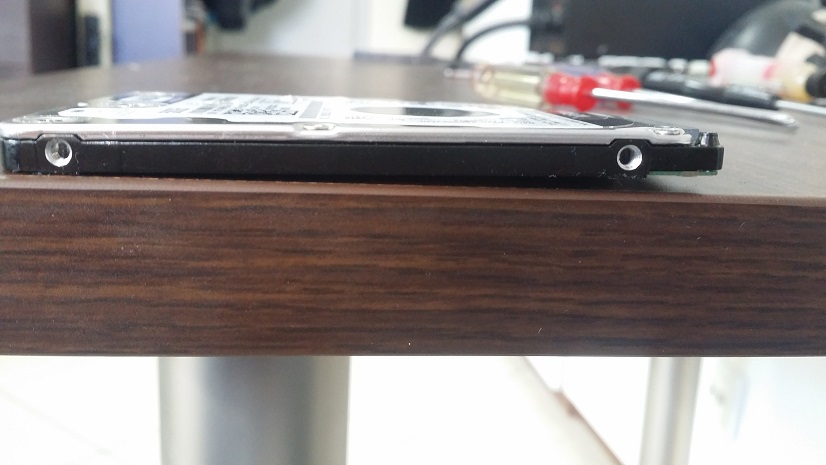 It's a 2.5" laptop hard drive. The drive is manufactured by WD, and it's of 500GB capacity.
This is a damaged laptop hard drive..
This laptop was in a car that was involved in a serious car accident (luckily, no injuries).
Due to the impact, the laptop suffered several serious hits and was destroyed completely.
Visual inspection helped us realised the severity of the damage: The hard drive's chassis was deformed and was wobblbing (pic. 1 to the left and pic2. to the right).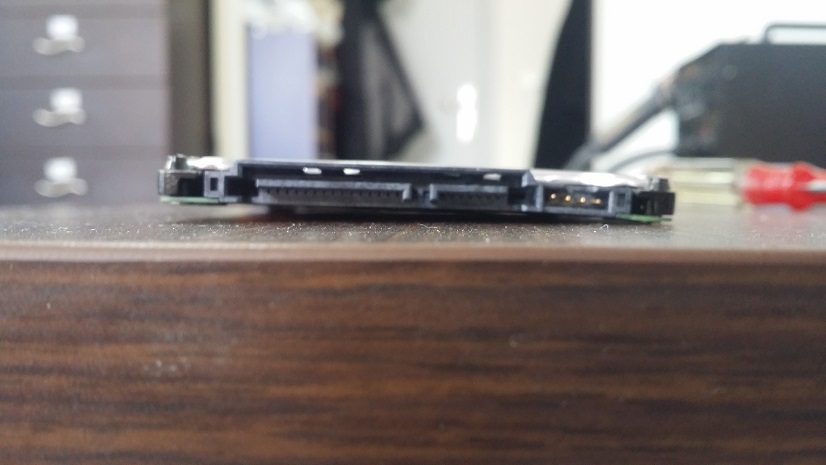 Of course, a simple drop of the lapto would be sufficient to cause damage to the hard drive due to the fall. In this case, it's much worse because we had impact and total HDD disaster.
Careful, do not drop down your laptops! :)
In our case, we decided it was necessary to transfer the platter to another chassis, Of course, we also had to replace the drive's internal parts (heads etc)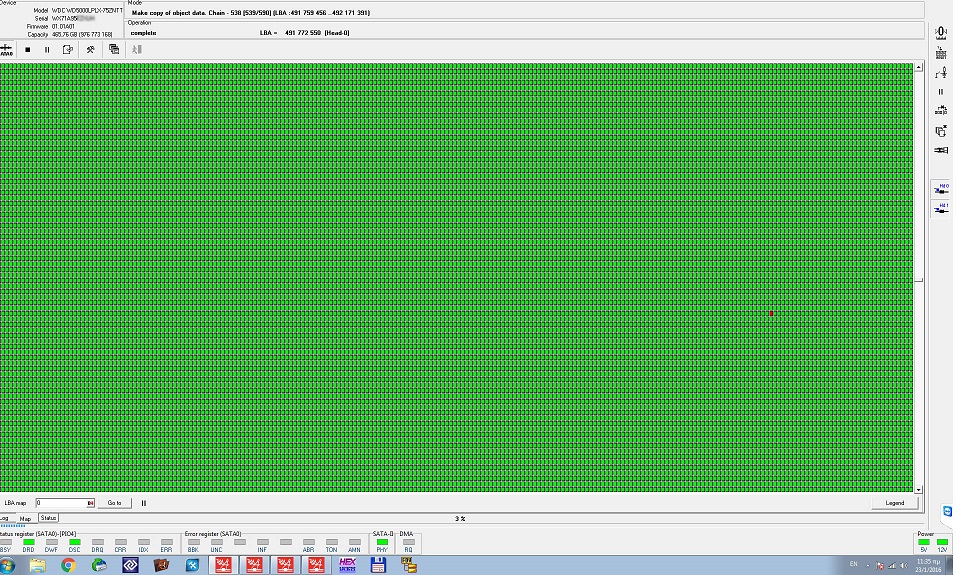 Then, we put the drive up for imaging. Result:
SUCCESS! We were able to recover 96,8% of our client's data!
Another happy client! :)
CASE 1201 - HDD Not Recognized By The System
Seagate 500GB hard drive - ST3500320AS model.
Symptoms: Not recognized by the system, with no other causes (fall, power etc).
Solution: It is the well-known problem of the 7200.11 drives family with FW: SD15, which we solved completely.
Percentage or recovery: 100%.